It's a Floor Wax! It's a Dessert Topping! It's Both!
While it's true that you wouldn't want to use it for either of those, Google Cardboard is more than a cardboard box. It's a way that Google is unifying a platform for developers and users. And along the way, they're making it easy for people to afford to enter the realm of Virtual Reality. Think of it as Virtual Reality Garanimals. (Did I just show my age?)
Put It In Your Phone
Google Cardboard is an app that allows you to access virtual reality on your phone. Download the app and install it. Run the app and check out some VR. But wait… I see two images, one for my left eye and one for my right… did we forget something?
Put Your Phone In It
Google Cardboard is a device that allows you to insert your phone and use your phone's screen to view Virtual Reality through large lenses that focus your view perfectly on the screen so your phone's screen becomes a huge movie screen. And since we're talking about VR, it's a huge 3D movie screen! If a device says it is Google Cardboard, like the Mattel VR View-Master, it means it is compatible with everything called Google Cardboard.
Put It In Your App
For developers, Google Cardboard is a way to easily support all devices that are compatible with Google Cardboard. When you build your Virtual Reality app, add a few of the magic sprinkles from the Google Cardboard wizards, and you're ready to rock the Cardboard, rock the Cardboard. As a developer, you know that your application is going to work on all the Google Cardboard devices.
Still Confused? 
Don't worry! Here's a video that does a good job of explaining everything you need to know. Below the video is a list of device manufacturers and links to more items of interest. Write us if you have questions!
Google Cardboard Headsets
First of all, there are lots. All of these are compatible with the GC software. The only thing you need to keep in mind is that some phones do not fit in some of these. As a device consumer, be sure to check the size restrictions. It all, essentially, comes down to the size of the phone or the phone's viewscreen.
Our favorites are: Google Cardboard Viewers themselves because they are inexpensive and work, Mattel's VR View-Master because RETRO COOL, and Merge VR because they are soft and our kids can drop them without us being too worried about our expensive phones getting damaged. Hey, testing is important!
Get a Google Cardboard Headset NOW!

Google Cardboard brings immersive experiences to everyone in a simple and affordable way. Whether you fold your own or buy a Works with Google Cardboard certified viewer, you're just one step away from experiencing virtual reality on your smartphone. All of the viewers here carry the Works with Google Cardboard badge, which means they work with your Cardboard apps. So find the viewer that fits you (and your smartphone) best, then enjoy your favorite immersive experiences.
Additional devices we have identified are listed below. If we missed any, please tell us in the comments!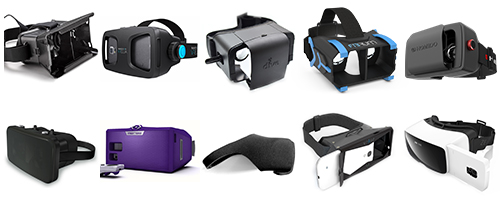 3Csmart, 3Deva, AGPtek, Aizbo®, Altergaze, Andoer, AntVR, Archgon VRock, Archos VR, Ariic, AuraVR, Baoer Cardboard Valencia, Baofeng Mojing III, Bluenet, BoboVR, Bravozone, C1-Glass from Goggle Tech, Carl Zeiss VR One, CHICHO, Cmoar, Color Cross, CST-01, Davyci, DEFAIRY, DESTEK®, Dive VR, DODOcase, Durovis Dive, Eachbid, ebtintin, eimolife® 2.0, Ewin, FAVOLCANO, Fibrum, FIVESUNG®, FreeFly VR, GameFace, Geekercity®, GYD VR Headset, Hasbro My3D Viewer, Homido VR, Hossen, I AM CARDBOARD EVA Version, IMAX, Increase Max Edition, J-DEAL®, JHB 3D Glasses, Karas 3D, Kingfansion, KKmoon, Lakento, LEAP-HD, LightsCastle 2015, Ling VR, Linkcool, Minisuit, Noon VR, Phoneix, Pinc VR, Playglass, PowisCustom, PU Leather and Microfiber 3D Glasses, Purple EVA 3D Glasses, Refugio3D, Ritech 3D Glasses, SimpleVR, SUNNYPEAK, Sunsbell®, Tagstand, TEEFAN®, US OFTENBUY, Voberry®, VR Envy Velocity, VR ONE, vrAse, VReyeGO, Wecharger, XA, Xin Gear, ZwTech. WHEW! Which do YOU want? 
About Meta 3D Studios
Meta 3D Studios, founded in 2005, is an application and game development company in Austin, Texas that creates custom-branded interactive experiences for clients, including A&E Networks, Discovery Channel, Mattel, and Syfy Channel. Meta 3D Studios services small- to large-sized game and app clients with their interactive product, art, and animation needs, and helps to launch hundreds of diverse projects worldwide. Visit our Case Studies for more information about Meta 3D Studios and how we work with our clients.
Our goal is to help and assist you in getting your projects successfully completed and launched worldwide. With a background of hundreds of projects from all continents and corners of the world, it is our continued commitment to offer an attractive and diverse selection of affordable services to our valued clients. We're here to make your project awesome.
Please contact us at info@meta3dstudios.com for more information.
Save
Save